Specialist expertise and support to help you proactively address the challenges of modern slavery throughout your supply chain.
Why get support?
Both investors and consumers are calling for ethical sourcing and procurement of products and services. Boards and managers must quickly gain the knowledge and skills to meet these demands and comply effectively.
​The complexity of supply chain management and the nuances of modern slavery can make this an overwhelming task for organisations of any size – whether a  company, public procurement body, NGO or charity.
How we can help
FiftyEight supports you with a comprehensive specialist service, appropriate to the size of the organisation and your supply chains. We can provide in-house support that bridges the gap between consultancy and having your own full-time staff working on responsible sourcing issues. We help you identify an approach to addressing modern slavery that is best for your organisation, develop a plan of action, and support you to deliver it.  We are passionate about a service-led approach so there is always someone at the end of the phone to help with questions or issues that come up along the way.
We can support your organisation through:
Undertaking a Gap Analysis of your company policy & practice against requirements of legislation such as the UK Modern Slavery Act, Australian Modern Slavery Act, or Mandatory Human Rights Due Diligence regulations – as well as best practice NGO guidance.
Reviewing existing policies and supplier contracts to incorporate modern slavery requirements.
Modern Slavery Risk Assessment across your own operations and your supply chain, including temporary and agency labour providers, etc.
Developing supply chain engagement and due diligence systems together with appropriate auditing, monitoring and KPIs.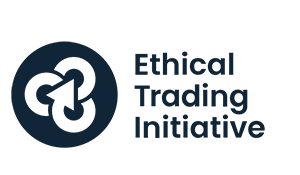 I highly recommend Fifty Eight. Their findings have exceeded our expectations and identified additional opportunities for strategic collaboration and service improvements.
Ethical Trading Initiative
Supporting your team to create and deliver a best-fit action plan for your organisation